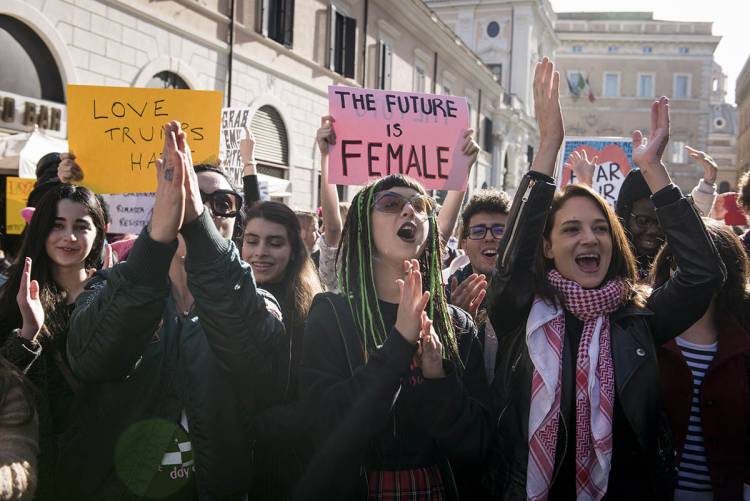 Grassroots women's movements in the Asia Pacific are calling for a globally coordinated strike led by women on March 8, 2020, to withdraw their labor from their waged and unwaged work, from an unjust economic system, from the patriarchal social structure, and to put a stop to it and change the world. We echo and amplify the demands of feminist strikes that came before us and put forward demands that will bring transformative change to the lives of, not only women in the Asia Pacific, but also those oppressed by neoliberal capitalism elsewhere.
As a regional network of women's rights organizations in the Asia Pacific, we choose to strike as a collective action, as we recognize how powerful a tool strikes can be in challenging those in power: corporations, governments and state institutions. Even though it's considered a traditional collective action by labor movements, strikes are now being revived and coordinated by various people's movements based on principles of solidarity and common good. For example, the Women's March of January 2017 that was the largest single-day protest in United States history, and the School Strike for Climate led by Greta Thunberg that has gained momentum with students around the world. The results are not only successful in disrupting the system and shifting power relations, but also achieving changes demanded by the people.
APWLD's call for a women's global strike came after many years of discussion on how policy engagement with governments, development institutions and international norm-setting agencies failed to make substantial progress for the lives of women. In September 1995, governments came together during the Fourth World Conference on Women and made a commitment through the adoption of the Beijing Declaration and Platform for Action. The resolution serves as guidelines for governments to make substantive equality for women a reality. However, women across the globe still face inequality and injustice in all aspects of their lives.
In the past 30 years, it has been increasingly recognized that neoliberal globalization has resulted in negative impacts on women, especially for marginalized women: rural women, indigenous women, women workers, LGBTQIA (lesbian, gay, bisexual, transgender, queer, intersex, asexual) women, refugees and migrants. Decades of austerity policies have resulted in the reduction of social spending, and the consequent privatization of public services that once provided safety nets for women and their families. Despite nations' commitments to the United Nations Sustainable Development Goals, governments continue to bind themselves to trade agreements and economic regimes that give away power to corporations to intervene in policies that prioritize profits over human rights.
Evidence shows that women are hit harder by austerity measures and it can affect them through all their stages in life. Due to existing patriarchal norms, girls may have to sacrifice attending school when access to education becomes a challenge to families, or get married off. When there is a loss of household income or food scarcity, women and girls in the families may be more negatively affected than men and boys. When public services are cut, women shoulder more unpaid care work, whether caring for children, fetching water or caring for the sick and elderly. Currently, women's unpaid care work is estimated to be worth nearly $11 trillion, or 13 percent of global gross domestic product, yet capitalism takes advantage of this by not recognizing and devaluing care work.
Women's realities
To see transformative change in the lives of women, our demands from the global women's strike initiated by the grassroots women's movements in the Asia Pacific require all states to ensure decent jobs, end genderbased violence, provide equitable access to resources and food sovereignty for all. We believe that these key demands reflect the aspects of women's lives no matter where they are. By implementing these key demands, states can push transformative shifts to ensure women's human rights and development justice.
Women in the Asia Pacific witness how neoliberal capitalist economies have had devastating impacts on their lives. Decades of privatization, deregulation and liberalization have seen countries in the region cutting social services and opening up their countries to attract private investment, while pushing their own populations in the race to the bottom in human rights protection. Billionaires' fortunes increased by 12 percent last year while 3.8 billion people, or the world's 50 percent poorest, saw their wealth decline by 11 percent, according to Oxfam, the international nongovernmental organization. Widening gaps in power, resources and wealth in turn aggravate gender inequality. As of 2019, a mere 26 people own as much as half of the world's poorest.
The region, as elsewhere in the Global South, has become the hub for low-paid, low-skilled manufacturing where women workers are concentrated. Business, sometimes together with the government, keep the wages and other costs low by contractualization of jobs, cutting social benefits and repressing union organizing. Women are overrepresented in informal sectors, where social protection and welfare are nonexistent. According to the United Nations Entity for Gender Equality and the Empowerment of Women, more than 80 percent of all women in South Asia, 74 percent in sub-Saharan Africa and 54 percent in Latin America and the Caribbean are employed in nonagricultural informal jobs.
Reduction in social spending and public services mean women have to take up jobs without welfare and security, while taking up additional unpaid care work at home. Around the world, women are estimated to do 80 percent of care work, and three times more than men in normal households. It is estimated that it will take 210 years until this gap in unpaid care work will close. The Asia Pacific sees countries with the highest gap between men and women in sharing unpaid care work in the household, such as India and Pakistan. The impact of neoliberal globalization also results in landlessness in many parts of Asia.
As women make up the majority of the world's small-scale farmers, equitable access to land and resources is crucial to families' secure livelihoods. There are still many structural barriers that exclude women from owning land, such as patriarchal norms, concentrated land ownership, lack of security in land tenure and land grabbing by corporations and state actors. "Green grabbing" has also become a new trend, where communities are being displaced in the name of environmental conservation, affecting rural and indigenous communities in particular.
Monocropping by agribusiness monopolies has resulted in irreversible environmental degradation, land grabbing and community displacement. Such corporate agriculture is disenfranchising small-scale farming done by women with traditional knowledge. As the majority of the small-scale farmers, women are traditionally the ones who store and share seeds that are collectively shared with communities. However, trade regimes are taking away that sovereignty and giving agribusiness the right to monopolize seeds through intellectual properties. Currently, only four corporations
control more than 60 percent of the world's seed sales.
Evidence shows that the impact of climate change and neoliberal capitalism has aggravated violence and harassment of women. In Bangladesh, research suggested that the loss of land and livelihoods
due to climate change correlates with early child or forced marriage. It also found that climate change has increased demands for dowry payments, while dowry and child marriage inevitably become local adaptation strategies for low-income families. Cuts in public services also means facilities that target prevention and combat genderbased violence such as a women's shelter could be negatively affected.
Feminist strikes in the past
Globally coordinated feminist strikes is not a new idea. Militant women's movements have long resorted to strikes as radical means to withdraw our labor – both waged and unwaged – from the system so that feminist demands can be heard. The first global women's strike recorded dated back to 2000 when the Wages for Housework Campaign, a collective of progressive feminists from Italy and the United States, called for a global women's strike in March 2000 to demand that all women's care work be compensated inside and outside of the home, pay equity for equal work of equal value, and investment in social and public services. They also demanded that the recommendations of the Beijing Declaration to measure and value unwaged care work be implemented in national statistics with sexdisaggregated data collection.
Calls for feminist strikes were revived in recent years, including women's strikes in Poland in 2016, when thousands of women nationwide stopped working for one day, calling on their government to withhold a ban on abortion that would criminalize all pregnancy termination. In 2017, Argentina saw a mass protest led by women against femicide, a widespread phenomenon in Latin America. The protests later spread to Brazil and other countries in Latin America, where similar demands were made to end violence against women. The rise of the Trump administration prompted the national women's march in the United States in 2017 to "send a bold message to the new administration on its first day in office, and to the world that women's rights are human rights."
At the same time, national feminist strikes highlighting the issue of the current wage gap have taken place in waves across Europe and other countries in the past few years. In Iceland, where a nationwide women's strike took place in 1975 and achieved concrete outcomes in addressing gender inequality, Icelandic women stopping work at exactly 2:58 pm on March 8, 2018, symbolizing the wage gap in which they still get paid less than men by 30 percent. In France and Switzerland, women movements followed the same logic and called for women's strikes by ending their working day shorter on that same day and joining rallies on the street.
In 2017 and 2018, several feminist strikes on an international scale were coordinated by the International Women's Strike, or Paro Internacional de Mujeres in Spanish. The strikes took place on
International Women's Day on March 8 in more than 50 countries. Their demands included ending violence against women and building safe, harassmentfree workplaces. This year, the tradition continued with women's movements together with trade unions in Italy, Spain, Greece and Argentina going on strikes on March 8, highlighting the impact austerity policies have on women, and reviving the origins of International Women's Day, stemming from working-class women's movements.
Although the demands of feminist strikes change within countries and phases in history, these calls from women's movements reflect the reality still lived by women around the world regardless of economic and political systems. Women in the workplace continue to experience wage disparity, sexual violence and poverty-like wages. At home, women shoulder the "second shift" of cleaning the house, cooking, caring for children and the elderly at home, leaving them with longer work hours and less time to engage in paid work. In higherincome households, domestic work often gets outsourced to migrant domestic workers who often have a precarious status, receive povertylike wages and are denied any labor protection.
Feminist academics Cinzia Arruzza, Tithi Bhattacharya and Nancy Fraser argue in "Feminism of the 99 percent," a manifesto that makes invisible work done by women visible while questioning the nature of capitalism's exploitation and reliance on women's unpaid care work, that by striking back, we refuse to be complicit in the neoliberal economic system that depletes the world of natural resources, aggravates violence against women and exploits women's unpaid labor.
Our demands for the strike
Through striking in 2020, around 25years from the Beijing Declaration and Platform for Action, we demand our governments make women's human rights a reality. Governments around the world must invest more in creating decent work and a living wage in all sectors. Governments must value, invest in and redistribute domestic work and care work that women are subsidizing and shouldering in the economy. Investing in social services and infrastructure would also help reduce and redistribute women's care work that can contribute to gender equality in the long run.
Nations must ensure that rural women have access to and control over land and productive resources through agrarian reforms, as well as by prohibiting any land grabbing in the name of "development." Rural women should own decision-making power, security of land tenure and the ability to determine a sustainable food production system that would enable them to not only obtain food sovereignty but also seek community-owned strategies in climate change mitigation and disaster reduction. At the same time, developed countries and corporations must be held accountable for climate change.
The strike also reiterates the demand for an end to gender-based violence within the family, at the workplace and everywhere. Governments must uphold their commitments made in the Beijing Declaration and implement measures to end gender-based violence, such as providing women who are subjected to violence with access to justice and just and effective remedies for the harm they have suffered. Through securing a livelihood, accessing land, resources and public services, women would be able to have the power to challenge the patriarchal norms and shift the unequal power relations.
Collective action
The strike that will take place on March 8, 2020, reminds us of the roots of International Women's Day. The earliest observation celebrating women's rights dates back to 1909 when the Socialist Party of America held National Women's Day in February 1909. One year later, progressive women from 17 countries agreed that there should be a designated date to celebrate an annual Women's Day to promote the rights of women.
After that, International Women's Day was celebrated annually in various countries across Europe, but it was not until 1914 that Germany celebrated the day on March 8 to advocate for women's suffrage. Since then March 8 has been internationally recognized as International Women's Day. Women workers in Russia, Europe and Asia since then have taken to the streets to demand gender equality, equal economic opportunities and an end to violence against women, among other demands.
Strikes can take shape in various forms as long as they withdraw women's labor from the system. In the past, women in the Philippines have withheld sex from their husbands to demand they stop fighting each other in war. Thousands of women in Iceland in 1975 refrained from cooking, childcare work and cleaning. Filipino migrant women have withheld their remittances for a day to protest their government's corruption. More than 70,000 women in Switzerland took to the street in 2019 as the organizers called on them to finish work at 3:24 PM, highlighting a wage disparity.
We chose March 8, 2020, for a global women's strike because we wish to remember the militant origins of International Women's Day. We see that governments made commitments to advance women's human rights 25 years ago in Beijing, but women still face rights violations and discrimination in almost all aspects of life. We recognize that the significant gains for women's human rights have come from generations-long resistance and collective action to demand nations to fulfill our rights and fundamental freedoms as duty-bearers. If elected leaders are incapable of delivering the long-awaited commitments to achieve gender equality, then it is time for women to take power back and set new rules for women's human rights and development justice. We encourage you to join us March 8, 2020, for a Women's Global Strike, wherever you are, and in whatever form of strike you can take to make women's collective voice a norm.